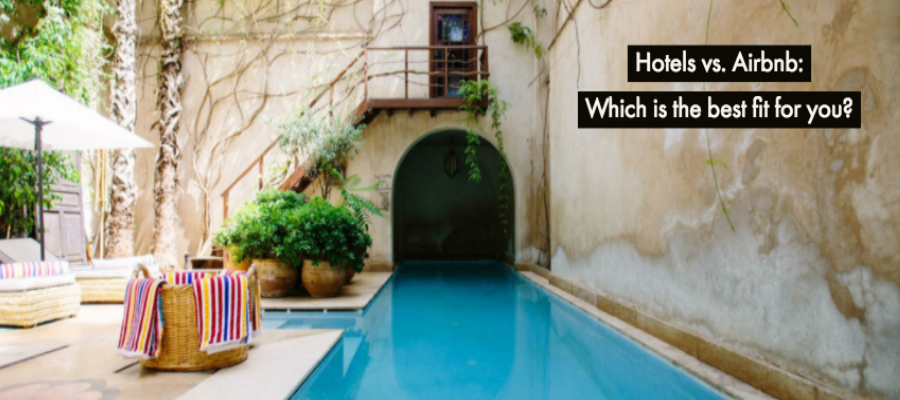 01 Jun

Hotels vs. Airbnb's: Which is the best fit for you?

Whether traveling for business or personal, do you prefer staying in hotels or in an Airbnb? Before Airbnb launched, hotels were really the only option for lodging while traveling. If you are unfamiliar with Airbnb, it is a website that allows travelers to rent a room or apartment from a host. So what are the pros and cons of staying in a hotel versus Airbnb? Here are a few tips that can help you decide which lodging experience is best for you on your next trip.
Price
Price widely varies with all types of hotels and Airbnb based on destination, the time of year, etc. With Airbnb, you can have access to a kitchen so you don't have to eat out every meal which may save you some money. Price overall is pretty comparable,though hotels are generally just a little bit more expensive, especially for extended stays. When traveling with a family, Airbnb allows you to rent out condos, or even homes. This can be more convenient than renting multiple rooms at a hotel.
Location
Hotels are generally strategically placed around touristy or "downtown" areas of cities. Airbnb has grown so much, and you can find a room, apartment, condo, or house for rent almost anywhere. This makes Airbnb a little more convenient, depending on where you desire to stay.
Quality
We have all have probably experienced staying in a cheap, basic motel room and a nice, luxurious hotel room. Airbnb is similar in the fact that you can stay in a cheap, unclean Airbnb apartment or a beautiful Airbnb condo. Do you research and read reviews before booking a room with either a hotel or Airbnb.
Experience
When it comes down to it, whether you decide to stay in a hotel or Airbnb, it depends on what sort of experience you are trying to have. With Airbnb, you get to experience the city you are in more as a local than as a tourist. Hotels can offer quality standards and cater to your needs through room service, room cleaning, etc.
Do you prefer staying in a hotel or Airbnb when traveling? Comment below and share with us why.