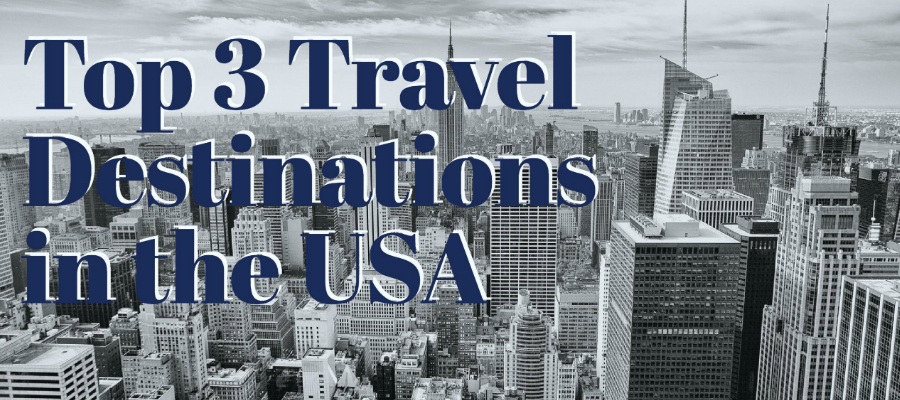 28 Jul

Top 3 Travel Destinations in the USA

While the United States has many unique sites to see, New York City, Philadelphia and Oahu are ranked as the top three destinations to visit in 2017. Make sure to add these places to your bucket list, here's why:
New York City
There is something for everyone in the city that never sleeps, from its food, fashion, and museums, to skyscrapers and nightlife. Take a walk through Central Park, visit the Metropolitan Museum, see an award-winning Broadway show, say hi to Lady Liberty on Ellis Island, stand awestruck in Time Square- these are just a few of the many experiences the Big Apple has to offer. New York is unique because it is constantly evolving, with people from all over the world making New York City home. It has the top trending restaurants, latest fashion trends, newest Broadway shows, etc. The feeling of the American Dream is alive and well in NYC, which entices the millions of visitors each year.
Philadelphia
As one of the United State's most historic cities, Philadelphia has become a trendy and popular city to visit this year. Be sure to see the Liberty Bell, the Declaration of Independence at Independence Hall, Redding's Market, and eat a famous Philly Cheese steak. Philly is a college town, home to the University of Pennsylvania, Drexel, and Temple University. The city of brotherly love is a perfect destination for history buffs, art connoisseurs, and fanatic sports fans. If you're looking to slow down and experience a more simple way of life, make sure to visit Amish country.
Oahu
Hawaii has always been a popular place to visit, however, with Pearl Harbor celebrating its 75th commemoration this year, Oahu expects even more tourists. Oahu, meaning "the gathering place", has many cultural and historical sites such as Iolani Palace and the Aloha Tower. You can surf or relax on one of many beautiful beaches along the North Shore. Immerse yourself in island culture by visiting the world famous Polynesian Cultural Center. For food lovers, you'll find a large variety of local Hawaiian dishes, all sorts of Asian cuisine, as well as all your favorite American foods with a Hawaiian twist. Don't forget to visit the Dole plantation and cool down with a famous Dole Whip!
Comment if you have traveled to any of these locations and what activities you would recommend.